AWE Recap: How Meta & Mortenson Use VR for Hyperscale Data Center Construction and Operations
On June 3, 2022 we were on a panel at the Augmented World Expo (AWE) alongside Meta and Mortenson Construction. The panel focused on how Meta data center teams are using the Oculus Quest 2 and Resolve to virtually walk through data centers before they're built.
On June 3, 2022 we were on a panel at the Augmented World Expo (AWE) alongside Meta and Mortenson Construction. The panel, titled Data Center of the Future: VR Construction Design Review, focused on how Meta data center teams are using the Oculus Quest 2 and Resolve to virtually walk through data centers before they're built. Immersive reviews have saved Meta substantial time and money by identifying issues before construction and optimizing for a safer, more efficient, and sustainable final data center build. Below we summarize some of the key points from the panel and link to the corresponding points in the recording.
Building Hyperscale Facilities
4:20
Meta is an owner and operator of Hyperscale data center campuses that are 300 to 400 acres in size. At that scale it is critical to ensure a consistent delivery process to minimize risk across the facilities. From safety to sustainability, data center owners like Meta strive to achieve a high standard of quality while maintaining very tight construction schedules.

Enhancing, Not Replacing, Today's Process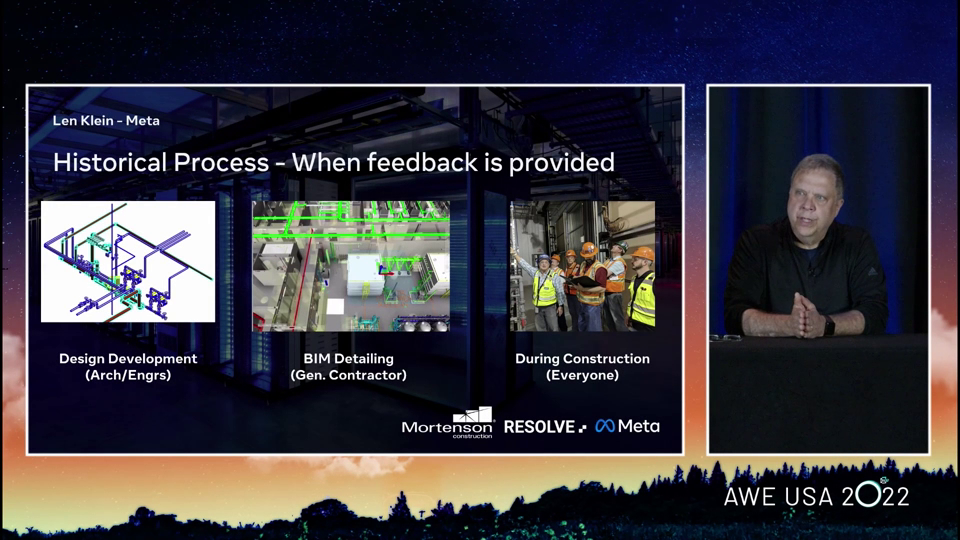 7:00
Today's data center operations teams are engaged for feedback throughout design and construction but the mediums used for review severely limit the input that can be given. Drawings or 3D Navisworks models via screen share make it challenging for people to digest what exactly is being built - so the default becomes to look for issues in the field. Unfortunately, at that point things are more expensive and time consuming to change. And in worst case scenarios an issue may slip through a field walk and only be discovered once the site is operational.
18:02
VR helps hyperscale data center teams flag more issues earlier and leads to reduced risk of late stage changes or critical issues popping up during operations. Meta operators are getting a 20x improvement in efficiency when reviewing new builds and are able to find 30-40 issues in 45 minutes.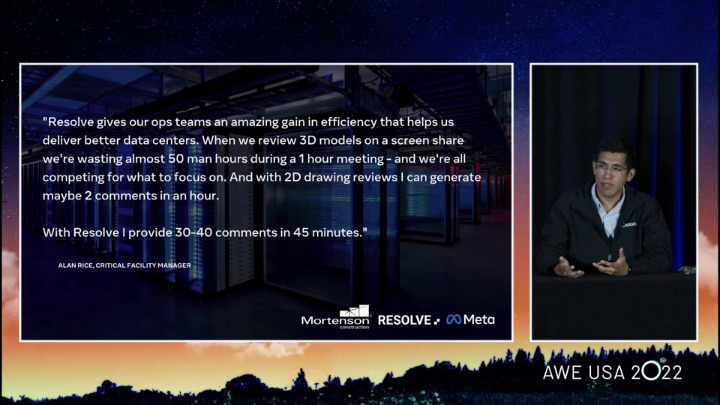 20:03
Today's engineers and general contractors are very well versed in parsing through 2D documents or flying through 3D models to look for issues. BIM tools cater to streamlining processes that prevent something from being built correctly - like looking at clashes between different disciplines. VR reviews aren't going to replace that. The ROI of BIM can be maximized by using VR to engage people who don't normally have access to BIM, but have important questions to answer by looking at the digital building model. The people who aren't used to thinking in 3D all day are the ones who stand to benefit the most from the technology.
VR for the Masses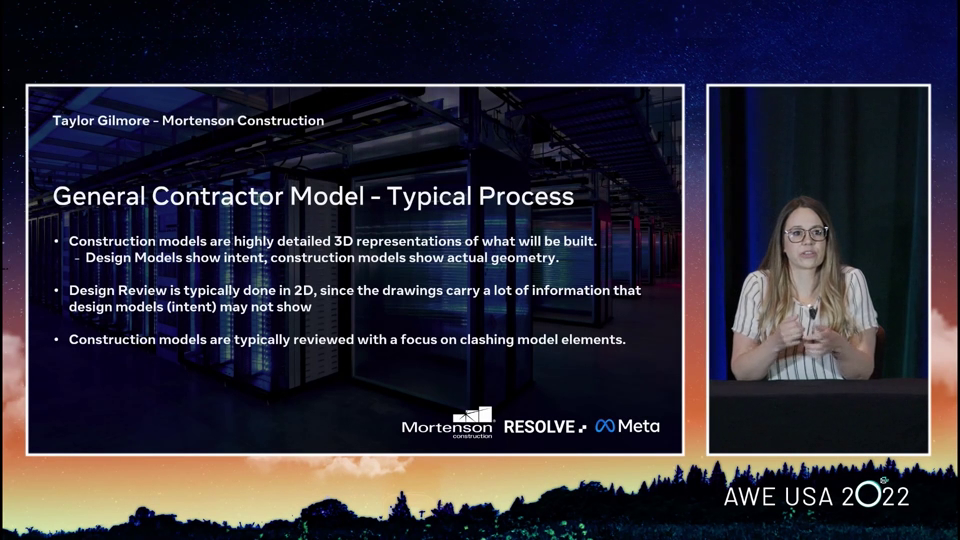 5:36
Today, the construction industry uses 3D building information models (BIM) to enhance project delivery. However, the audience for these assets is limited to experts well versed in desktop based 3D controls. The primary usage of 3D models is for clash detection that helps ensure the building can be built without any conflicts - but there aren't good tools for assessing operational risks of a facility. There are obvious benefits from  being able to experience 3D models with immersive tools, but usage has been bottlenecked by requirements for complex VR equipment. While most companies claim they are using VR, the reality is their complex station set up is limited to a single user occasionally looking at a project in VR - usually for a bid presentation.

"Everyone has tried VR workstations… Basically, they become dust collectors. I've seen so many VR stations. Everyone says, "yeah, we've done VR". We decided that wasn't working. We needed to find a new way. Really the big thing was how do we do VR for the mases."

The rise of standalone devices like the Oculus Quest finally provided a way to make VR more accessible, but the complexity of data center models presented a challenge. Resolve's core rendering tech provides a seamless way to bring hyperscale data center models onto wireless VR devices. When Meta partnered with Resolve they were finally able to deploy VR in a way that scaled and gave people more accessibility to digital assets.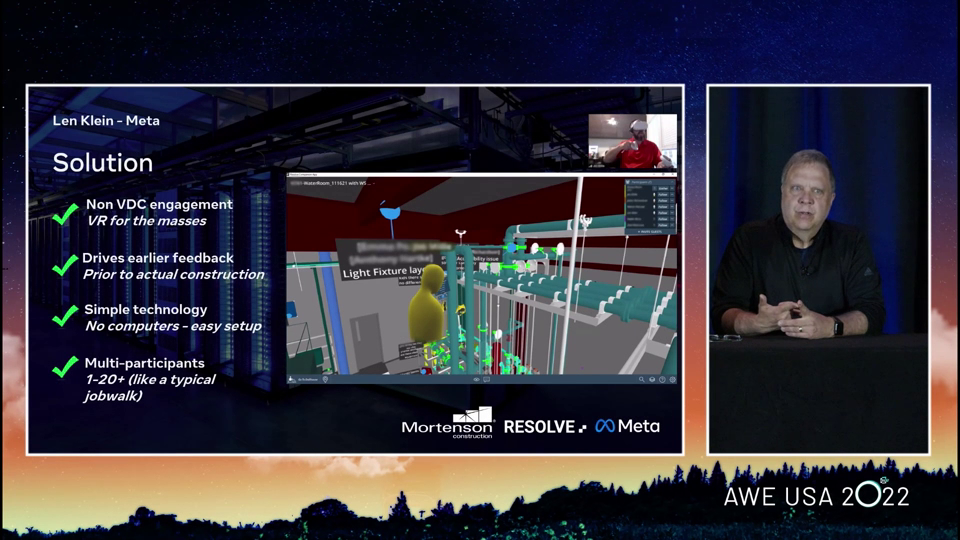 What's the ROI of the Metaverse?
24:00
It can be tempting to dive into the latest metaverse technology to keep up with trends, but for long term success it's important to track the ROI and problems being solved. When dealing with mission critical facilities, the more the facility can be battle tested before it's built and operational the better. And virtual reality provides a sandbox in which things can be tested safely and sustainably. You can get up close with equipment without the risk of arc flashes, no material waste from prototyping or changes, no travel required to meet with colleagues in other regions, and the list goes on. The panel encouraged the audience to see past the novelty of VR and work backwards from what problems are critical for an organization to solve - then you can tap into the full potential of the metaverse.

Watch the full talk here: https://www.youtube.com/watch?v=_E4JSRxT_D4