Using VR to bridge the gap between BIM and site maintenance at a brewing plant
Nodum, a Mexican project management firm, uses Resolve to review BIM in VR with the maintenance team of a large brewing facility
On July 6, 2023, Resolve presented alongside Nodum at Autodesk's event in Guadalajara, Mexico. The event focused on the various use cases of VR for 3D model visualization. Nodum is a leading Mexican project management firm with a focus on developing and deploying effective BIM workflows for owners looking to maximize their investment in BIM.
Resolve's CEO, Angel Say, and Nodum's CTIO, Juan Carlos Garza discussed how Resolve was deployed on a brewing plant facility in Sonora, Mexico.
BIM for FM
Owners of industrial facilities have long recognized the advantages of BIM workflows in design. Fewer, however, are maximizing their investment in BIM post-construction and for facility management. That's where Nodum's use of Resolve comes in.
" It's much easier to engage with operators in VR versus on a screen share. They understand the model faster..."
- Juan Carlos Garza, Nodum CTIO.
As part of their contract with the owner of a Sonora, Mexico brewing plant, Nodum conducted "model deliveries" with maintenance and operations teams. The goal of these sessions was to deliver an as-built 3D model that can be used by field teams to plan maintenance before accessing equipment in the field. The as-built model is created by combining a 3D-native design process with post-construction scans of the site. The design model and these scans are combined to create a true digital twin of the facility.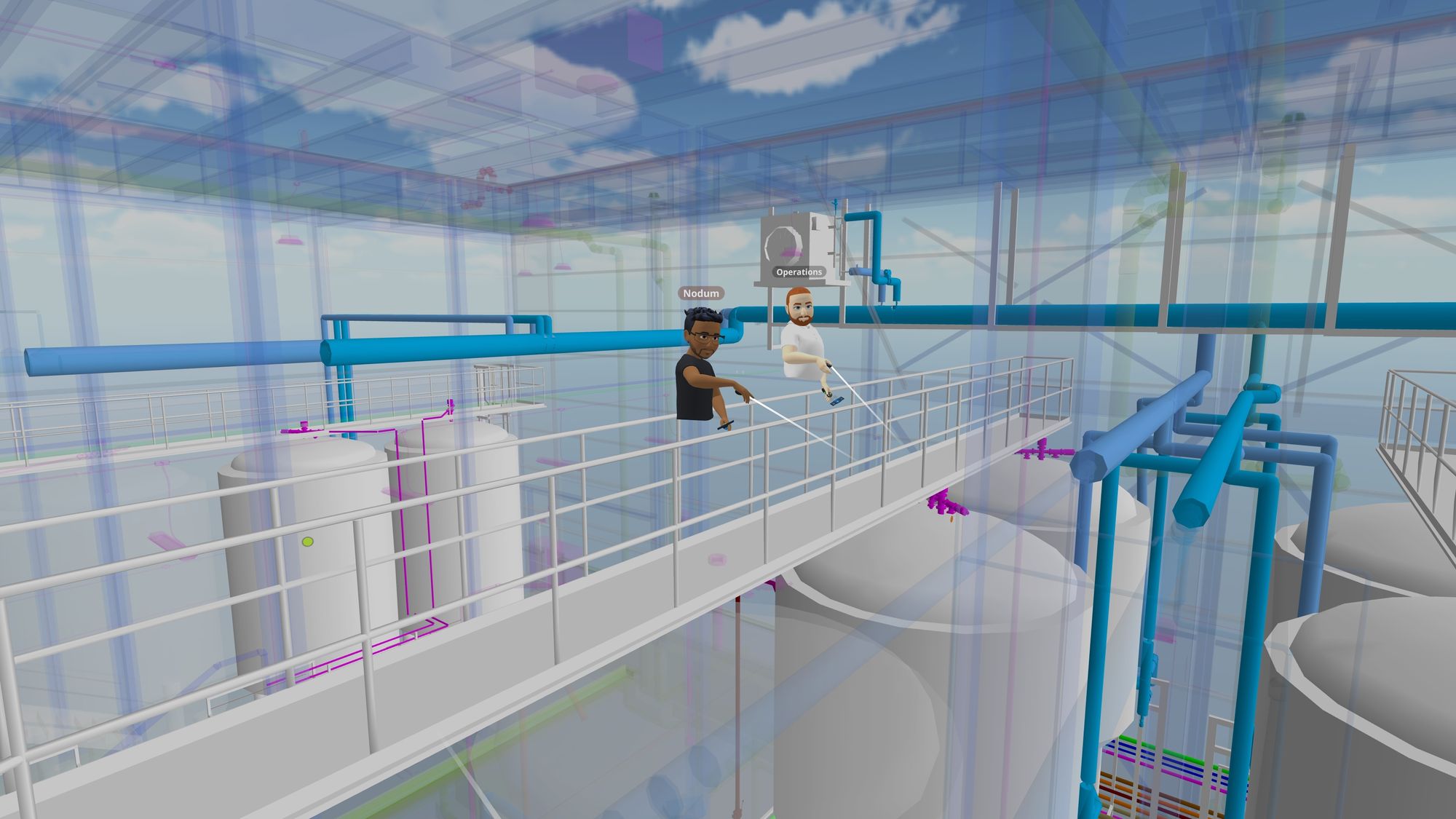 Field teams need technology that "just works"
Of course, the combination of federated models and scan data creates an incredibly dense digital asset. That's where Resolve's Wellington Engine comes in. Capable of processing 3D models with hundreds of millions of polygons and rendering them on untethered headsets like the Oculus Quest 2 and Pro, Resolve provides the bridge to allow Nodum to easily review the as-builts with the owners' maintenance teams.
For those who have worked with field teams, it comes as no surprise that they can be hesitant to adopt new digital technologies. The ease of use that comes with untethered headsets breaks down these barriers, allowing Nodum to conduct seamless model deliveries.
VR for seamless as-built handover
The Nodum team scheduled multiple sessions in which they walked through recently turned over areas in VR. The purpose of the sessions was to explain the digital asset and it's relation to future operations. Namely, field teams will be able to access the 3D model to prepare for maintenance or day-to-day operations, including being able to navigate to specific pieces of equipment and access product data sheets, which are populated in VR via the tool's integration with BIM 360 properties.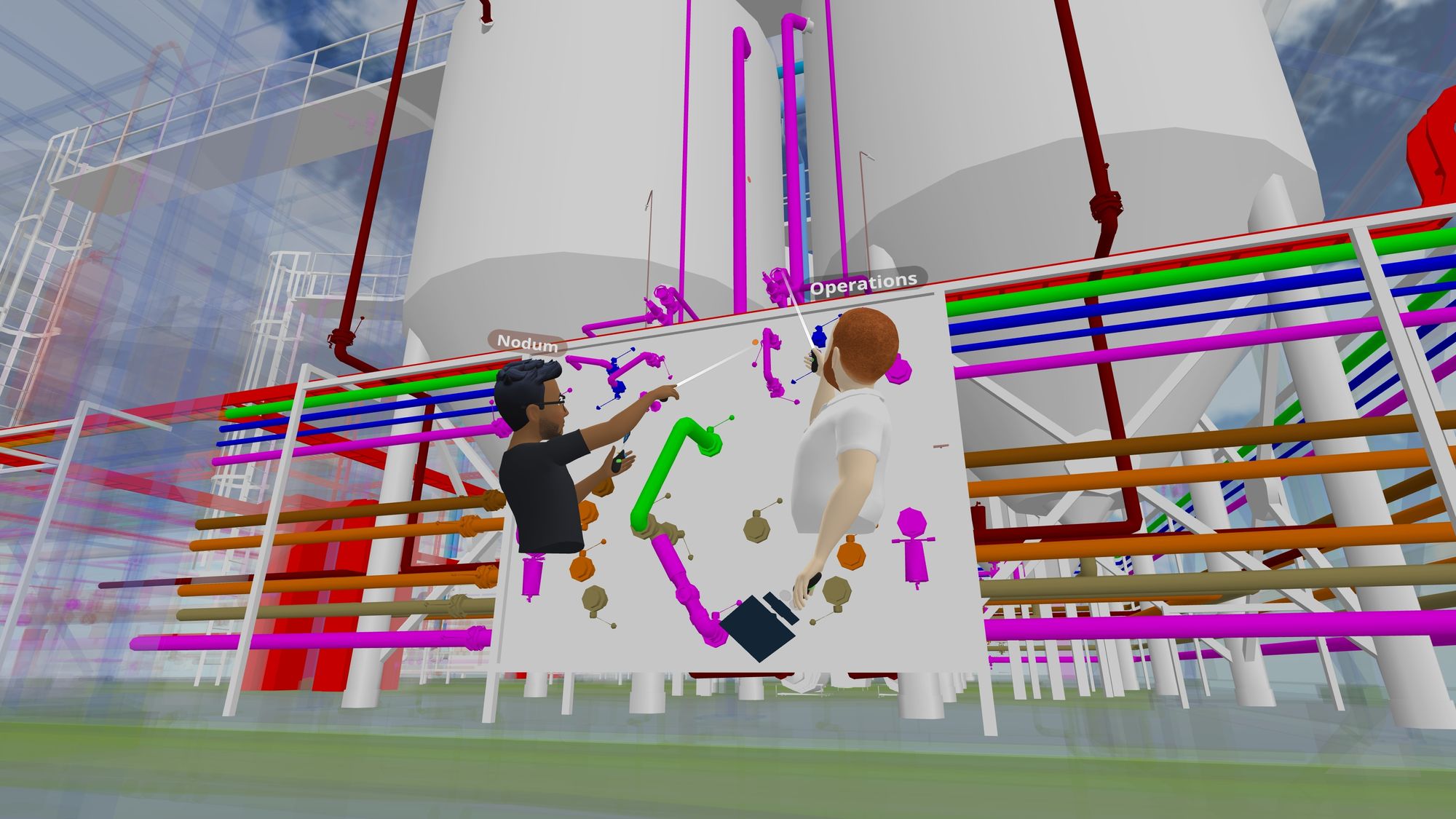 "VR allows our team to capture the attention of field teams when delivering models. It's much easier to engage with operators in VR versus on a screen share. They understand the model faster during model deliveries, and we think that the same will happen during maintenance planning" said Juan Carlos Garza, Nodum CTIO.
In the future, operators in the field at this facility will be armed with highly detailed knowledge of the equipment and areas in which they will be working before conducting critical operations and maintenance. In this way, the owner of the facility has extended the life of their 3D models beyond design and construction and increased their return on investment in those digital assets. Most importantly, however, the owner's investment in the 3D model will continue to compound with quicker maintenance and smoother operations.
---
Do you want to upload your own BIM to review in VR? Sign up for a free trial.
Resolve builds software that makes 3D building information models more accessible so teams can find critical issues that save time and money on new construction. Resolve's Wellington Engine can render large BIM files on the standalone VR devices making it a scalable, easy to use solution for project teams. Resolve is used by leaders spanning industries like food & beverage, water treatment, data centers, biopharmaceuticals, and green energy.